FENG SHUI SUCCESS STORIES
My Feng Shui Success Stories can help you understand how Feng Shui works and the benefits it has for those who use it!
I recently did a Feng Shui consultation for a single woman who owned a town house. She said her goal was to create a space that friends and family would feel welcomed and at home. She was very creative but somehow the structured spaces she created seemed more like magazine photos than a home filled with personalized touches. In fact, her living room could have been a doctor's office rather than a home.
I asked her to contemplate on these areas and to write an intention for 4 spaces in the bagua which I felt were really nondescript.
After three weeks she sent me her intentions and from there I helped her create spaces that really resonated with those intentions. The Living Room was in the Helpful People and Travel area of her home and after receiving her intention for this area I understood what she needed to do and why she could not figure out how to make this space warm and cozy. When we worked together to input those intentions it instantly changed the energy of that space.
Not only did family and friends feel welcomed she also, enjoyed the inviting feeling she felt when she entered her home!
My Feng Shui services included two trips to the home, several hours preparing for the second visit; a written report and as I toured the home a second time with my suggestions a recording which I emailed to my client. This was a two story townhouse.
I had a Feng Shui Consultation at a home that was surrounded by trees and bushes and the acreage that was behind the house was a forest. I felt the immediate Yin energy when I entered this dark house and was amazed that all the curtains and draperies were dark as well!
My first thought was to ask this couple if this seemed like an emotional place to live. The women was immediately intrigued and jumped in with a resounding: yes! She said they both were a little melancholic and didn't know why. I felt that there was plenty of reason for it and explained that when Yin is the overriding energy in a place we feel emotional and often as though we are helpless in making changes, that is what too much Yin energy will do.
The first thing I suggested was a change in color palate; the walls, curtains and drapery. I made appropriate suggestions for each part of the bagua, they were excited about it and we planned a return trip for a look at adjusting the contents of each room.
The way I was greeted when I returned let me know instantly that they really felt the change and were excited to share it.
The husband, who was silent on my first visit, was over the top on my second visit sharing how differently he felt. He was beaming and gave me this testimonial for my website: "Lydia, was an unexpected surprise, I didn't much believe in Feng Shui, my wife knew there was something wrong and insisted we try Feng Shui, when I met Lydia, I thought she was going to tell us to move the furniture and put a Buddha here and there. But she absolutely sensed the issue when she stepped through the front door and looked around. She gave us a painting plan with colors and a change in window treatments before advising us on what to move and change in our home. My wife and I felt an impact with each finished area of our house and it has literally changed our life! Thanks so much, Lydia!"
Balancing Yin and Yang really does make a difference!
My Feng Shui services included two trips to their home, several hours going over the issues that needed to be worked on, a written report and as I toured the house a second time with my findings a recording of the visit. This was a large 2 story home.
I recently had a Feng Shui Consultation with a young couple. They bought a house because they wanted to have a family and at the point that I met them they were trying to conceive.
As I toured their home I soon realize that the Creativity/Children area of their home was missing and in its place was a sliding glass door leading to a cement patio and a barbecue grill!
Although they were a typically creative and resourceful couple (I gleaned this from their artwork and many different hobbies they shared), after living in the house for 1 year and trying to conceive a baby without success, they seemed a bit downtrodden. I next looked at their Family area which was a vacant bedroom that was painted white and had a scant amount of furniture with no personal objects in it.
I immediately saw their problem and how to fix it! I suggested they move the outside grill to some other area in the backyard away from the sliding glass doors. Since the house was a rectangle with a cut out in the Creativity/Children area which was also a rectangle, I suggested they get an awning (which could be retracted) and create a "room" with lots of interesting and colorful objects that were hand crafted and place chairs and use the area as often as weather permitted.
Then I suggested they paint the room in the Family area a soothing sage green and consider this space for the baby's room. I suggested they put a healthy plant in there and tend it carefully, and that they each put some pictures of family members they adored in wood frames on the wall. I suggested they buy a cradle and if they had any toys from their childhood that they had good feelings about to place them in that space. I suggested that they tackle these two areas of the bagua before considering anything else.
Within three months I heard from my clients and they were ecstatic! She was pregnant and they confided that they could feel the changes in their environment and their optimism rising as soon as both areas of the home were done!
My Feng Shui services included two trips to their home, several hours going over the issues that needed to be worked on, a typed report and as I toured the house a second time with my findings a recording. This was a large ranch style home.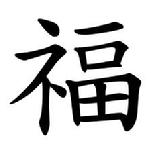 Chinese symbol for prosperity
My client had a lovely home but as I entered her Prosperity area I soon realized that if she and her husband didn't have issues with money; living in this house would surely have created them. Why? Her Prosperity area was a super small bathroom. Water is the worst element in the prosperity area. Her Helpful People area had a fireplace. Fire is the worst element in the Helpful People area.
She needed big cures and I suggested she start in these two areas before doing anything else. I asked her about her finances she said things were alright but that they never really saved money and they didn't really see eye to eye on how money should be spent. I asked her about the types of relationship connections they shared with others. She said they tended to each have a different set of friends and that had widened in the past 10 years while living in the house. They didn't have a safety net with their connections when they needed one. Also, she shared that there was a great deal of apathy between them and about life.
I suggested that she put lots of energy adding the fire element to the Prosperity area, as well, as adding the water element to the Helpful People area. I told her an aquarium in the Helpful People area could get this area moving.
Within a 4-week period she had experienced changes. She and her husband came together on some important goals for the relationship and their finances.
They also, noticed themselves reaching out more as a couple and once they completed all the changes on the first floor they decided to have a party and co-mingle their relationships so that they could find some common ground.
They lived in a three story house: finished basement, five rooms on the first floor and four bedrooms in the upstairs. My Feng Shui services included two trips to their home, several hours going over the issues they needed to work on, a typed report and as I toured the house a second time with my findings I recording
.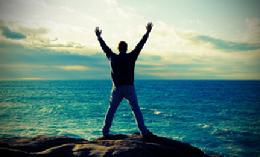 Joyful Connection
I had a client recently who lived in a large sprawling house with a very open floor plan. As I toured the house with her we began talking about her family life. I typically ask questions as to how many people are living in the house and how certain areas are used. She was married with two grown adult children both living at home.
One child was mentally challenged and, of course, needed most of the attention. This young adult was used to having things his way and I suggested that with the help of Feng Shui and some focus on the three areas of Health, Family and Creativity we could balance out the household so that everyone felt important.
When one family member is bossy, or stubborn or ill, the whole house starts to revolve around them and their energy, which depletes the energies of others.
When I entered her living room I noticed the fireplace had three pictures of the mentally challenged son at varying ages and one picture of the healthy son. I immediately suggested that she remove the extras, so that equality between her sons could start to come into balance. Her fireplace fell in the Family bagua of her room. This is always tricky.
I also suggested she boost her Creativity area because challenged children tend to lack creativity and flexibility. The Creativity area was in a very difficult space (garage entry door and laundry room). She was there for 13 years and I asked her if they were happy ones, she basically said they were not. To counter balance these two areas, I suggested she enhance her health area with cures, so that it would balance out all their energies.
Her health area was in the kitchen, this area was full of clutter, bills, telephone and wine. I suggested that she move her mini office into a perfect spot to the right of her entry way which is the Helpful People Area. And to start to employ all the Feng Shui cures for the Health area first.
I suggested she make a few small purchases to make some important changes since she had most of the items that were necessary.
My Feng Shui services included two trips to their home, several hours going over the issues they needed to work on, a typed report and as I toured the house a second time with my findings a recording. She felt excited and ready to tackle her environment!

Contemplative Garden
I had a Feng Shui Consultation with a young couple who had just bought a two story townhouse with three bedrooms.
Although they appeared close it seems as though their view of each other's immediate family wasn't that good. "We didn't want to rent so we put all our money together and bought the townhouse so we would have an investment, but we didn't own enough furniture and our families decided they would help us fill up our new space." From there they went on to explain how their families came together and gave them 50% of everything in the house, that meant that their house was full of hand me downs from both families.
I asked them if either of them enjoyed or liked the majority of the hand me downs they were given. Both of them admitted that they didn't like most of the family's furniture. Although the families were trying to help this young married couple, the couple should have had a discussion about each "gift" before accepting it to avoid the discord they were now feeling with each others family. They felt obligated to keep everything because of the fact that their families lived locally and visited periodically. After a while they stopped feeling as though this was their dream home.
The first thing I suggested they do was to go through the home together deciding what they both liked and wanted to keep. When they made their choices I suggested that they place the things they didn't want in the basement for the time being.
I came back to the home and suggested that they work on the Family area of the home first so they could avoid hurt feelings or feuds with their respective families. Since the Family area had a fireplace in it, this is tricky, I asked them if they had a large mirror that they could hang over the fireplace to douse the fire energy, which would help them avoid arguments with each other and their families. I also suggested they put some pictures on the mantel of the family as young children, example: dad as a young boy and aunt Tilley as a young teen in wooden frames. I advised them to flank the fireplace on both sides with two identical healthy plants. The plants are unconsciously standing for the couple as a united front in the choices they were making.
I suggested they take photos of the family "gifts" for Craig's list to sell what they didn't want, they became alarmed over this suggestion but I asked them if anyone in the family was without a sofa, recliner or dining room table, etc. They said many things were in basements, attics and garages which meant that they were not being used or needed. With that out of the way, I suggested they sell everything on Craig's list and to save all the money which would go to buying some new items for their home. I suggested they hold off on inviting family over for a while, and I give them the information on what should be placed in all their spaces and to consider painting their walls in preparation for the addition of new furniture which they would slowly add. I suggested that when they had a table and more living room seating they have a family get together as a big "thank you" and explain how grateful they were to the family because their "gifts" helped them to buy furniture that matched both their tastes.
They were so happy about my suggestions that after two months I got a phone call from the couple, they said that they completely finished furnishing the first level. I asked them if they were able to sell everything they wanted to get rid of, they said they did and made a total of $462.00. When they saw things selling the couple decided that if they each found a job working part time on the weekends they could within 1 months time have the extra money to actually buy new items and finish the first floor. This really helped them feel so good that the were not fearing how their families would react any longer, and they had that party and neither family was upset, and everyone was excited and touched by the photos sitting on the mantel!
My Feng Shui services included two trips to their home, several hours going over the issues they needed to work on, a typed report and as I toured the house a second time with my findings a recording. They felt I gave them a solution which would appease everyone as well as help them reclaim the energy in their home!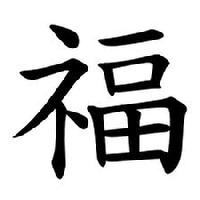 Chinese symbol for Prosperity
I was recently commissioned by the YMCA in Burlington, Vermont to give Feng Shui Office consultations to over 20 staff members. Each office had its own challenges and characteristics while housed in a lovely, old building with large windows, high ceilings and crown molding. While consulting with the President, Vice President's and Directors at the Y, I noticed a common colored drawing on various walls in all the offices. The President informed me that they were working on an expansion plan for the Y and that everyone on the floor would be playing an integral piece in making this vision a reality.
This was a major intention for the coming years and since the YMCA is a non- profit organization they would be relying on corporate grants/funding, donations and fund raisers. This then set the tone for my work at the YMCA and I made it a point to create a Prosperity area in each office that would echo this intention. I asked the staff to place the colored drawing in the proper area of each office as well as something personal that they were working on that was related to prosperity. With everyone focusing on the intention for the Y in unison, it created a major magnetizing energy.
And when someone enters an office, staff or outside visitor, they are immediately drawn to the Prosperity Area of each individual office.
Recently an outside visitor commented to a staff member on the fact that every corner had this picture in the space and wondered what the significance was. This led to a lengthy conversation about Feng Shui and the YMCA's intention to expand. That created an opportunity that the Y had not explored before and also, a phone call to me for another Feng Shui Office Consultation!
A month later I was back again at the Y to continue giving Feng Shui Office Consultations, one of the VP's said to me that a "new grant" came through and she believed it was directly related to my Feng Shui work creating cohesive energy for the Y and its staff members!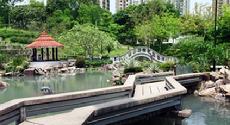 Peaceful Garden
I was asked to give a Feng Shui Consultation for a couple. Overall the house was well kept but lacked warmth and mementos of any kind. As I entered the Fame and Reputation area which was the living room I noticed an aquarium and lots of gray upholstered furniture surrounded by white walls. This room lacked any fire elements which is so necessary in the Fame and Reputation area.
So we sat down and I asked them why they didn't seem to have any pictures, or sentimental objects or even personal things about the house, in general. They both confided that they were in a fierce hurricane a few years back in another state and lost everything. When the opportunity came to relocate through the company the husband worked for they jumped at the chance to leave their state.
I then asked them how many years had they been in Vermont; their reply was 3 years. I asked them why they were not filling their home with some expressions of who they were or family memorabilia and reminded them that in order to move on from a traumatic experience it is important to start the process of creating normalcy.
Since they lost photos I asked them to contact family and friends so that they could send photos and to either buy picture frames or photo albums or digital photo frame to display those pictures. If family heirlooms were lost I suggested they ask relatives who most likely have plenty to donate one item each to add to their home. I also, suggested that filling the space with bright and interesting items lends character and removes the feeling of living in a hotel; which would actually create a greater sense of security.
Even though they were both working they were not doing well financially. Although, you would probably think it had to do with the Prosperity area; it had more to do with the Fame and Reputation area in this instance. The husband said that no matter what he did at work someone else always got the credit; he lacked confidence to speak up. The wife wanted to leave her job but was feeling fearful she wouldn't be able to find anything with a better salary so her courage was being tested.
The first thing I suggested since they were struggling on a budget was to move the aquarium to the career section of the home (boosting the flow of career energy). Second, I suggested they purchase a can of paint in a coral/clay red or red pink color and paint the living room. Third, I suggested they purchase a few bright pillows in reds, pinks, and coral colors for the sofa. And last I suggested a few potted plants in ceramic pots.
The couple invited me back to see the change in the room, one month later, and to tell me about how they were feeling, as well! It was wonderful to see the improvements in the home and to see them so happy and animated. Apparently everyone in the family and some friends they contacted were more than happy to send photos and two very special items that meant a great deal to them from each individual family which rounded out the process. I reminded them the importance of speaking up; often, when a tragedy hits, people really care but they don't know what to do. If we are the victim it is important to let those we love know what we need so that not only can we begin the process of healing but we can also give our loved ones a chance to feel that they can be part of the solution in our healing.
The living room was wonderful and exuded joy and happiness with its bright colors, plants and mementos. They were each working on their confidence and the wife had her resume professionally redone and was actively seeking employment. The husband was working on speaking up at his job and putting his name to the work he was handing out. All in all things were vastly improved. They promised me they would continue working on their space.
My Feng Shui Consultation services consisted of two trips to the home, several hours going over the issues that needed to be worked on, a typed report and as I toured the house explaining my findings a recording. The purchases and the Feng Shui Consultation were a small investment considering the many problems that were tackled through this process.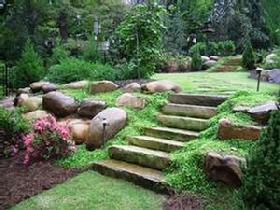 Backyard Serenity
It is no secret that we all want to be loved. With friends and family we want to be accepted for who we are. With lovers we want passion and we want to be needed and desired.
I gave a Feng Shui Consultation for a client who had a condo and was looking to create a more harmonious environment. He was single and asked as I walked through his space, if Feng Shui could really help him attract a love partner to his life. I, of course, said it absolutely could.
As I walked through his home I shared "when we live alone it is so easy to get complacent in our environment", and I recommended a thorough cleaning for the entire house and especially the Relationship and Love area which happened to be his dining room area.
This was a formal dining room which was turned into a sloppy office. It had a computer desk in it, boxes of files and stacks of books and other junk.
He said because he didn't entertain, it was an unused space he thought an office space would work here.
Since it was right next to the kitchen and adjacent to the living room, I suggested that he put his computer table in an out of the way spot in the living room. Since he worked for someone else outside the home, he didn't really need an office. I suggested he pare down his files and store them in the coat closet and suggested he make some space on his bookshelf for the books.
I advised him to turn the room back into a formal dining room. With a few matching items: candle wall scones; inexpensive but elegant glass table and four dining chairs and new paint job. He opted to my surprise, to paint the room pink! Not cotton candy pink but an apricot pink. The room was ready to go.
I, also, suggested he think about having people come to his home more often. Have a potluck, poker game, dates over, to get the energy going in his space.
After the mini remodel he began dating and four months later, he reported to me that he was in a serious relationship!
My Feng Shui services included two trips to the home, several hours preparing for the second visit; a written report and as I toured the home a second time with my suggestions a recording.
AstrologyByLydia®2007-2023©


Want a reading, more information or to schedule an appointment contact me:

phone: 802-

860-

2995 or
text: 802-324-1559 or
NEW email:
astrologybylydia@gmail.com
My readings are always original, never computer generated!
I don't need to meet you to give you a great reading!
All readings and sessions are recorded (except Quick Answer Readings/Emails and Flower Essence Sessions); and may be experienced in person, by phone, on Skype, or can be recorded and will be emailed.
All information shared is confidential, and never stored on my computer!
Find your place under the stars!